Case IH is a global reference in the sugar sector and has more than 50 years of knowledge and experience in the sector, which makes it the leader in production and sales of equipment for mechanized sugarcane harvesting.
FEATURES:
1.Unique Options
TOTAL PACKAGE : Built with efficiency and longevity in mind, Case IH 8000 Series Austoft®sugarcane harvesters deliver farmers and contractors the total package in cane harvesting:
High capacity
Industry-leading control and adjustment features
Superior cab comfort for the operator
Greater harvest efficiency and profitability
A8000
Equipped with tires
Excellent maneuverability
Faster, 12.4-mph (20-kph) transport speed
Reduced maintenance costs
A8800
Equipped with tracks
Improved stabilityon sloping terrain
Agriculturally designed grousers
Significantly reduce soil compaction.
2.Engine
ENGINE FUNCTION GAUGE : Every machine is equipped with a digital engine function gauge which replaces previous analog gauges on the cab A-post. Displays major functions:
Forward speed
Engine hours
Coolant temperature
Engine load percentage
Oil pressure
Any applicable engine error codes.
THE COOLING PACKAGE : The 8000 Series Austoft® cane harvester cooling package has been completely redesigned. Updated features include:
Remote cooling package with hinged screens
Reduced maintenance
Fully reversible hydraulically driven cooling fan
Ejection of trash removed from the screens (blown from the screen by fan reversal)
Auto - reversing with operator override.
3. Feeding System
Rain, strong winds, heavy cane varieties and seed can all present unique harvesting challenges. The Case IH feeding system can tackle challenging conditions, even in lodged and tangled cane.
HARVESTING FUNCTIONS
TOPPER
Removes the tops from the cane stalk and spreads them evenly on the ground
Single-cut topper standard--Recommended in regions where trash and cane stalks decompose quickly
Optional shredder topper — cuts and shreds the tops into 100-mm pieces
45-DEGREE CROP DIVIDERS
Deliver the best performance in down cane
- Gently lift and separate the stalk row to be harvested from adjacent rows
Exclusive rotating toes improve lifting
- Replace the fixed shoes
- Move less soil
- Minimize dirt entrance and harvester wear.
- Provides more sensitivity and quicker response time
- Creates a precise and uniform cut
- Reduces losses and damage to stools
BASECUTTER
Cuts cane efficiently and precisely at ground level
Feeds cane into the feedroller train butt-end first
Removable Discs:
- Five replaceable blades on each disc
- Deliver clean cutting to ensure ideal rattoning conditions
- Preserve stools to maximize future yields.
4. Cleaning
The 8000 Series Austoft® Cane Harvester cleaning system uses the Anti-Vortex System, designed and developed by Case IH. This system is the most modern and efficient cleaning system, it reduces extraneous matter and cane loss and dramatically improves the load density for transport, which lowers operating costs.
CLEANING SYSTEM DESIGN
Hydraulically driven via a vertical shaft mounted in a two-piece, high-density plastic hood
Separates trash from cane billets, and deposits trash in a controlled flow behind the machine
Fan operating speed is reduced from 1,300 rpm to 850 rpm
Design reduces vortex effect while also reducing cane losses by up to 50%
Required operating power is reduced by approximately 30 hp (22.4 kW)
- Promotes more efficient fuel consumption
TRASH REDUCTION
Operating at 850 rpm, the anti-vortex system reduces the percentage of trash (leaves and stems) by around 20 percent compared to other systems:
Results in higher-quality cane shipped to the refienry
Enhances cane mill yield
EXTRACTORS
The primary extractor uses the anti-vortex system to clean the cane billets:
- Removes leaves and other matter
The secondary extractor is a hydraulically driven fan mounted inside the plastic directional hood at the end of the elevator:
- Cleans the billets a second time
- Removes remaining dirt Ensures the cleanest sample
ELEVATOR SYSTEM
The strong, reliable elevator system conveys the billets via a chain and flights to the secondary extractor:
Consists of a slew table, slew system, bowl and chain conveyor
The bin flap directs the cane billet discharge flow into the cart or bin.
5. Auto Tracker option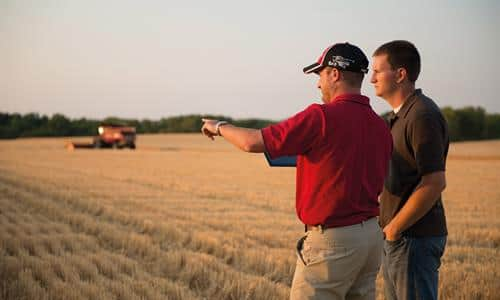 The optional Auto Tracker automatic basecutter height system uses sensors and the hydraulic suspension system to automatically raises or lowers itself to improve yield. This easy to use system allows you to concentrate on other harvest functions, is available for all Case IH 8000 Series Austoft® cane harvesters, and can be retrofitted for models manufactured since 1999.
STOOL PROTECTION
The Auto Tracker preserves next year's crop by cutting near the ground without damaging or pulling out stools:
Reduces the number of stools pulled out by the basecutter by 27.2%
Reduces basecutter stool disturbance by 28.3%
Reduces the number of stools pulled out by the basecutter at the ends of the row by 62.9%
CALIBRATION
After the Auto Tracker system is calibrated, there's no need to worry about constant cutting height adjustment:
Height is automatically adjusted through pressure and exclusive height sensors to an ideal cutting height
The operator uses the manual system for about the first 10 meters of harvest
Data accrues in the manual module
Auto Tracker saves that information and determines the most adequate hydraulic pressure and cut height averages for that area.
6. Hydraulic System
SUPERIOR HYDRAULIC SYSTEMS
Case IH Austoft® pioneered the use of hydraulic systems in cane harvesters and has continually simplified and improved efficiency for optimum performance, reduced maintenance, and lower operating costs.
MODERN HYDRAULIC SYSTEM FEATURES
The hydraulic systems of all A8000 and A8800 cane harvesters feature:
Streamlined critical hose routing and assembly
Relief cutouts made in the main frame to reduce hose failures due to chafing
A quick-connect port added to the hydraulic oil tank to simplify the fill process.
7. Cab
SUPERIOR OPERATOR ENVIRONMENT
The spacious, two-door, walk-through cab on 8000 Series Austoft® sugarcane harvesters offers unrivaled comfort, visibility and control.